Castell'In Villa Santacroce 2007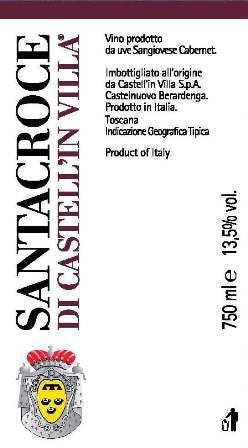 Santacroce, offers classic and very pure aromas of cassis, pencil shavings, and liquorice with impressive flavor extraction from ripe fruit that bursts through. Big tannins, hefty acidity and lots of glycerin balance out the whole. A thorough complex wine combining both the old and new styles of contemporary wine making. The Santacroce is Castell'in Villa's flagship wine made from 50% Cabernet Sauvignon grapes and 50% Sangiovese grapes. The wine is then stored for 18 months in barriques, traditional Bordeaux oak barrels of 225 litres capacity. The Santacroce is an example of what is called a Super-Tuscan wine. It is the result of the mix of the best methods and ingredients in local wine making and the creativity of the wine maker. Since the wine making method does not comply with the local rules for the D.O.C.G., the wine is only allowed to be classified as IGT Toscana.
Wine AdvocateThe 2007 Santacroce is a huge wine endowed with tons of richness and sheer textural depth. Dark cherries, plums, graphite, incense and tobacco burst from the glass in this intense, powerful wine. I very much like the way the 2007 fleshes out with time in the glass. It is a young, young wine that needs time to shed some baby fat and develop its bouquet. In 2007 Santacroce is more than 50% Cabernet Sauvignon for the first time, signaling the direction the wine will take as it gradually becomes a pure Cabernet Sauvignon. Anticipated maturity: 2017-2032.