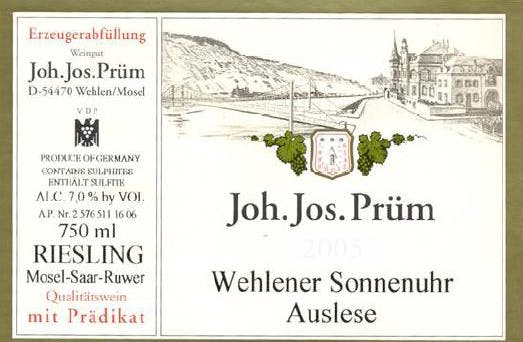 SKU: 24307
Joh. Jos. Prum Wehlener Sonnenuhr Riesling Auslese Gold Cap 2006
---
Unavailable
We're sorry, but this product is not currently available.
---
The Prüm family has lived in the center of the Mittelmosel region for more than 400 years. It was here that Joh. Jos. Prüm established his estate in 1911. The estate has become famous for top-quality Rieslings which are fresh and rich in taste, low in alcohol and are attractive not only when they are young, but possess the capacity to develop their character for decades.
The 2006 Wehlener Sonnenuhr Riesling Auslese Gold Capsule offers gardenia, orange blossom, apple jelly, and honey in the nose. Malt and peach join the floral and apple essences on the palate, which alternates silken and buttery textural expressions. Acidity is not at all obvious here, but its presence is felt in balanced sweetness and in finishing penetration and energy. Malt, butter cream and flowers linger in the empty glass. If this were sold solely as perfume it would already justify its price. But it would really be a shame to open a bottle for at least 15 years, and it could be held for at least 40.
A delicious auslese, revealing a fleeting range of lime, slate and spice flavors allied to a gossamer texture. Built on a light-weight frame, this layers itself seamlessly to a lime-tinged aftertaste. Drink now through 2030.
Almost tooth-achingly sweet, this nectar still retains an amazing level of fruit purity. It's floral and apple-y in its aromas, then offers pineapple, honey and melon fruit flavors. There's even some lime zest on the finish to partially offset the succulent sweetness.