Vega Sicilia Unico Reserva Especial 2013 Release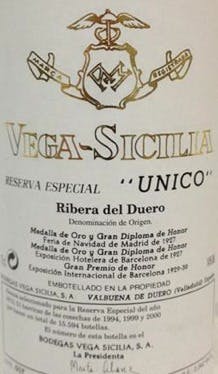 This wine has no vintage, as it blends harvests, and is representative of the more stable concept of Vega Sicilia. With this wine, the winery seeks to continue a very old Spanish custom and bring together the balance of different vintages. Traditionally in Spain, the few wineries that bottled their wines (most sold their wines from the cask) made two types of wine with each harvest: that of the current year, and another wine without a specific harvest, which was called "Reserva Especial". It was a blend of wines from the best harvests, which came to be the most representative wine of the winery.
Wine AdvocateThe 2013 Release (I could write the same note for all three wines) has a beautifully complex bouquet, a silky-smooth texture, elegance, and a long, pure finish. It should drink well for another 25 years.