G. H. Mumm & Cie. Cordon Rouge Rose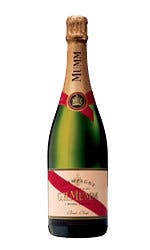 $89.99
Save $36.00 (40%)
$53.99
SKU 29928
750ml
The wine is bright, clear pink in colour with shades of yellow and orange. The sparkle is delicate but lively, with light, elegant bubbles. There are forest- and fresh-fruit aromas of strawberry, redcurrant and grapefruit on the nose. These are offset by caramel and vanilla accents reminiscent of G.H. Mumm Cordon Rouge. In the mouth, the wine has exceptional length due to its Pinot Noir content. The fruit and caramel notes give it a pleasingly fresh and rounded taste.
Wine SpectatorAn elegant style, evoking cherry, rosemary and mineral flavors matched to an assertive structure. Creamy and luxuriant, with an expansive finish. Drink now through 2009
Wine EnthusiastMumm's flagship Champagne is hugely improved. There is richness, flavors of white peaches and orange peel and just a touch of softness balanced by good structure. This is a fine wine that today holds its own with its competitors.