Toad Hollow Cabernet Sauvignon 2013 750ml
A Cabernet Sauvignon from Lodi, Central Valley, California.
Concentrated aromas of currant, cassis and loads of red and black fruit invite a first sip of rich l…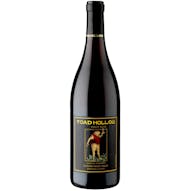 Toad Hollow Goldie's Vineyard Pinot Noir 2016 750ml
A Pinot Noir from Russian River Valley, Sonoma County, California.
Toad Hollow Pinot Noir sits astride the Russian River and listens to its cool melodies until it ripe…

Toad Hollow Unoaked Chardonnay 750ml
A wine.